Employees helping communities
We are committed to extending volunteering opportunities to bring about positive change to communities and global health while providing individual development. Our two flagship volunteering programmes – PULSE and Orange Days – give our employees distinct opportunities to offer their time and talent to benefit the communities.
The PULSE Volunteer Partnership
PULSE provides a skills-based volunteering opportunity where eligible employees are matched with a non-profit organisation for three or six months full-time in India or abroad. PULSE volunteers' work supports the UN Sustainable Development Goals, particularly good health and quality education.


In my PULSE assignment, I worked towards business development for a sanitary pad manufacturing unit run by rural women. My efforts not only helped the unit move closer towards self-sustenance but also helped improve menstrual hygiene conditions in schools and villages across the entire district, where these affordable sanitary pads are now available alongwith awareness sessions. The assignment helped me develop multidimensional thinking and end-to-end project management, skills which I bring back to my work at GSK as well to improve business performance.
The benefits of PULSE are evident from the data we collect from our volunteers, our non-profit partners, and the volunteers' managers and colleagues at the end of a PULSE assignment.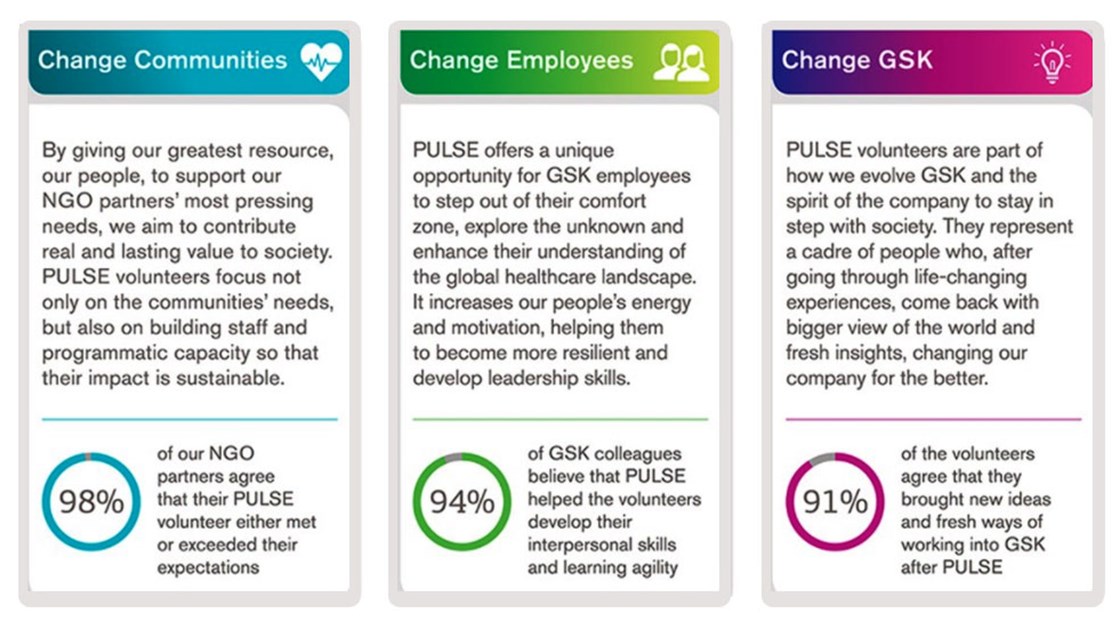 Orange Day
Our Orange Day programme gives all employees one paid day off each year to make a difference for their chosen local community project. Employees often do their Orange Days in teams to support a myriad of activities, from cleaning up community parks to mentoring school students. We encourage employees to volunteer their time to community, allowing them to offer their skills and expertise whilst developing themselves.
We also offer our employees an opportunity to volunteer part-time in a skills-based project (8-60 hours/year).
We recognise that there are colleagues who also wish to contribute financially for worthy social causes. For that purpose, we have partnered with Give India for our payroll giving programme. In addition, we organise events across all our locations to raise funds for our global partnership with Save the Children, which has a bold mission to 'Save One Million Children's Lives'. This cause and partnership brings together all employees across all countries where GSK has a presence and we proudly call it 'Orange United'.