Corporate social responsibility programmes
In India, our approach to corporate social responsibility (CSR) supports our purpose to help people do more, feel better and live longer. We strive to work with our partners to address selected national health priorities and work towards elimination of lymphatic filariasis; contribute towards Swachh Bharat; Swachh Vidyalaya (school sanitation); support 'Skill India' and focus on child nutrition under the National Urban Health Mission (NUHM). In doing so, we are helping millions of people across the country.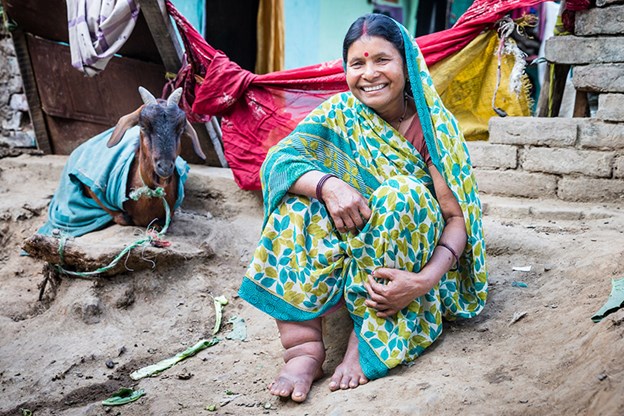 Partnering India to eliminate Lymphatic Filariasis (LF)
On January 2012, we joined other global pharmaceutical companies and leading organisations, including the World Health Organisation (WHO) and the World Bank, in a new united effort to support countries to defeat Neglected Tropical Diseases (NTDs). Together, this coalition supports the goals set out by WHO to control or eliminate 10 of the 17 NTDs by 2030.
The LF elimination strategy has two components:
to stop the spread of infection (interrupting transmission); and
to alleviate the suffering of affected populations (controlling morbidity).
In order to interrupt transmission, districts in which lymphatic filariasis is endemic must be mapped and a strategy of preventive treatment called mass drug administration (MDA) implemented to treat the entire at-risk population. In India, more than 650 million people are at risk across 256 districts in 16 states and five union territories. We have been donating albendazole tablets, used during MDA to WHO since inception of the programme in 2000. We have contributed over 3 billion albendazole tablets to the WHO for distribution in affected areas and have pledged to provide albendazole for as long as needed to help eliminate LF as a public health issue from the country.
A core strategy of morbidity management and disability prevention (MMDP) is also needed in addition to MDA. Suffering caused by the disease can be alleviated through a minimum recommended package of care to manage lymphedema and hydrocele. We have partnered with Project Concern International and have started working to provide MMDP in endemic districts in Uttar Pradesh.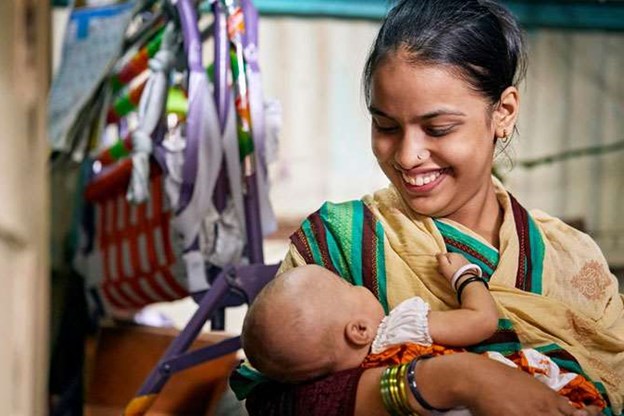 Child nutrition
There is a global momentum for improving nutrition and countries have made important strides in scaling up nutrition programmes in pursuit of the Sustainable Development Goals (SDGs), including Goal 2 - To end hunger and all forms of malnutrition' by 2030. The National Urban Health Mission (NUHM) proposes to address the healthcare needs of the rapidly growing urban population, with a focus on the disadvantaged and vulnerable sections. It emphasises on building local capacity and engaging communities for improving demand for healthcare, thereby enhancing delivery of healthcare and building public-private partnerships to enhance quality of care.
GSK has built partnerships to implement an integrated approach to tackle child nutrition in Mumbai, Maharashtra in partnership with SNEHA. The main objective of SNEHA Centre, supported by GSK, is to improve the nutritional status of married women at pre and post conception and after delivery and of children aged 0-6 years in vulnerable communities in Mankhurd area of M/E ward, Mumbai. The project focuses on the first 1000 days of mother and childcare. This project addresses healthcare from two sides - on the demand side, by attempting to create informed users of health services who will expect higher quality; and on the supply side, by working with public sector health providers (MCGM and ICDS) to improve the quality of health services.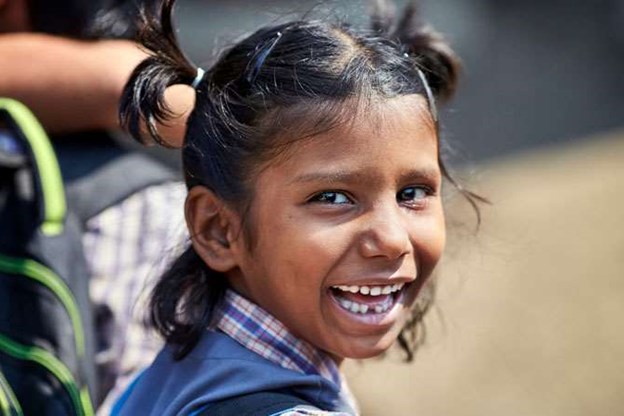 School sanitation
School is important for the cognitive, creative and social development of children. Swachh Bharat: Swachh Vidyalaya is the national campaign driving 'Clean India: Clean Schools'. A key feature of the campaign is to ensure that every school in India has a set of functioning and well-maintained water, sanitation and hygiene (WASH) facilities. WASH in schools refers to a combination of technical and human development components that are necessary to produce a healthy school environment and to develop or support appropriate health and hygiene behaviors. Studies have noted that handwashing can reduce diarrhea by more than 30% and respiratory infections by 16%.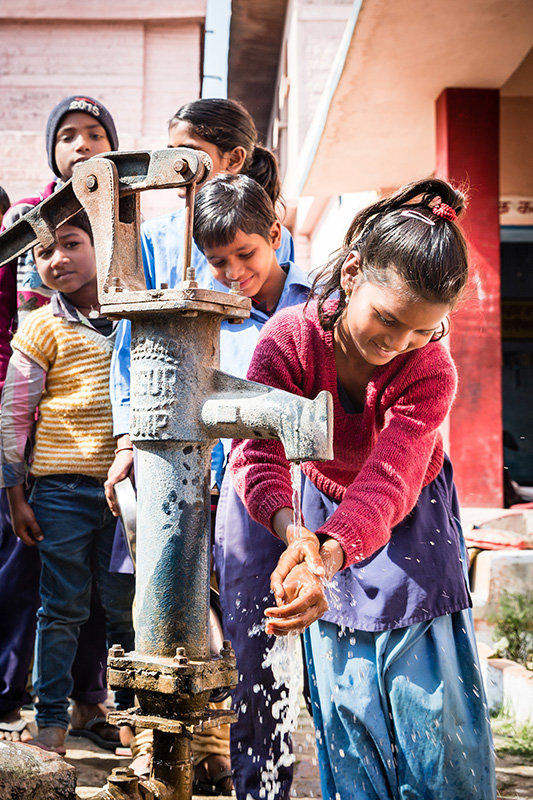 We joined the national call to action for 'Swachh Bharat, Swachh Vidyalaya' with a strong start in contributing to sanitation in schools in Nashik. There are 508 schools in the Nashik Municipal Corporation (NMC), including 127 civic schools. According to a study conducted in November 2014, a record 933 schools (public and private) in Nashik had no washrooms or had non-functional toilets.
We have worked with Bal Raksha Bharat (Save the Children) to provide sanitation units, complete water and waste disposal systems, thereby providing access to clean sanitation to 10,000 students, teachers and staff from five schools in Nashik. We have expanded our work to additional schools and continue incorporating both the hardware and the behavioural change communication aspects to our work in addressing the sanitation challenge.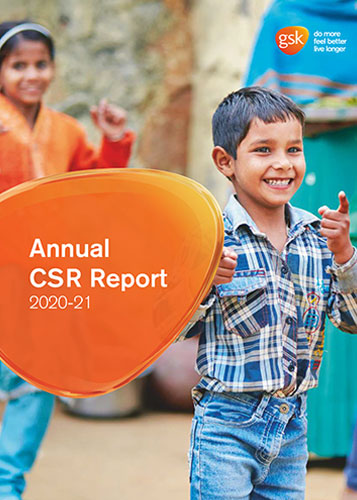 ANNUAL CSR REPORT 2020-21
Healthy communities form the foundation of strong, sustainable societies. As a responsible corporate citizen, GSK continues to work tirelessly with its partners and stakeholders to address the needs of millions of people without access to basic healthcare in India. Our CSR approach supports our purpose to help people do more, feel better, live longer. Through our CSR programmes, we strive to address identified national priorities, improve access and support people in vulnerable communities.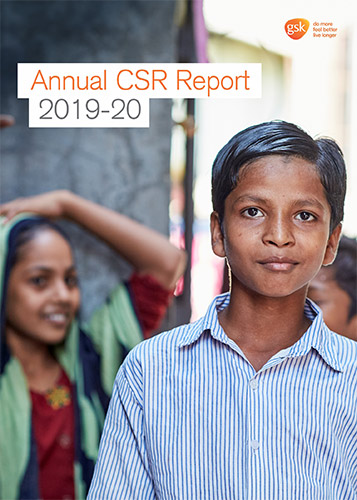 ANNUAL CSR REPORT 2019-20
In FY 19-20, GSK donated 32 million Albendazole tablets to the World Health Organisation to support MDA efforts across the country.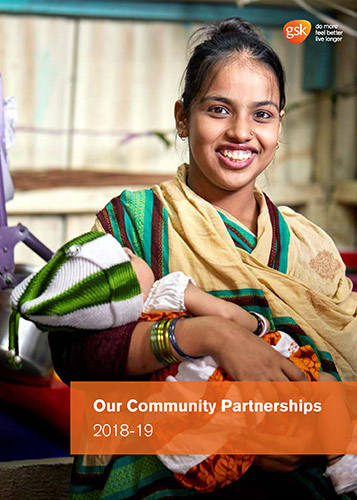 ANNUAL CSR REPORT 2018-19
We strive to work towards elimination of lymphatic filariasis; contribute towards Swachh Bharat; Swachh Vidyalaya (school sanitation); support 'Skill India' and focus on child nutrition.